Testimonials
Open the following PDF for testimonials on Accurpress machinery.
Accurpress High Tonnage Brochure
Fabricating Tips
Fox machinery takes pride in training  our customers on new technology and software. One way we do this is by offering fabricating tips and guidelines to meet each job quickly and effectively.
---
Conversion Charts
Download your own Fraction-Decimal-Millimeters Conversion Chart! Print it out and display near your Press brake for quick and easy conversions.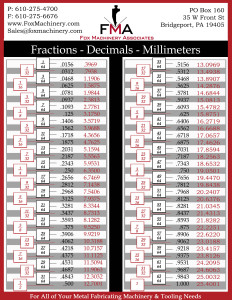 Free Download OR request laminated copies to stick to your Press Brake! Perfect for referencing during operation.
---
Our Products
Our product list is extensive, be sure to check our site for updates. You can request a hard copy of our line book here. OR click the image below to view Fox Machinery's 2016-2017 Line Book
---
Useful Programs
Tonnage calculation can be a chore. To make life simple, click on the link below to use the Tonnage Calculator for free! Easy to use, and no hassle.
Try the Tonnage Calculator Here!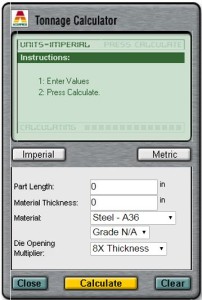 ---
Relevant Articles
Click here to view an article published in The Fabricator titled "The Evolution of Precision Bending" by Joe Altieri, former President of Fox Machinery.
Distance across corners of hexagons and squares
---
"Serving Pennsylvania, New Jersey, New York, Delaware, Maryland, and West Virginia"