Accurshear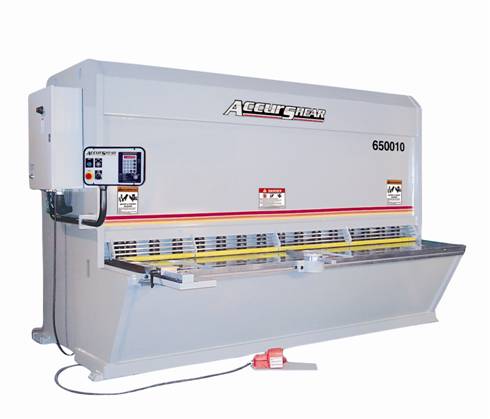 Accurshear: Superior Design for Shearing Accuracy and Reliability
Accurshear offers outstanding technological advancement in shearing technology with a full line of shears including the precision sheet metal shears and plate shears. Accurshear is the number one selling hydraulic shear in North America with over 5,000 installations. Accurshear consistently scores "very satisfied" for customer satisfaction, reliability, and on-the-job performance.
All Accurshear models are heavy, durable machines rated to shear materials with tensile strengths up to 80,000psi. The shears are of one piece welded construction manufactured in the USA. Accurshears have the lowest rake angles in the industry. This feature along with the box frame construction guarantees the best possible cut with the least camber, twist and bow; and fast cycle times with cycle times up to 40 SPM. The solid machined table is unique in the industry and makes processing of thin materials quick and easy.
Standard features include 4-edge blades, a 36" CNC power-operated backgauge with pre-select programs and automatic swing up, a 4 foot squaring arm, shadow light, manual blade clearance adjustment, oil cooler and adjustable stroke length.
The new pedestal MR CNC control provides you with the most CNC features of any machine on the market. All the buttons are on the front console station, giving you fingertip control over each function.
Optional CNC Frontgauge systems, sheet support systems, conveyor stacker systems, and front support arms will provide a substantial enhancement in productivity.
Other options include: ball transfers in table and in support arms, power blade clearance, and t-slots in table.
To enhance safety and allow an operator to position smaller pieces of metal into position for shearing, an OHSA and ANSI compliant light curtain is available.
Request For Quote
"Serving Pennsylvania, New Jersey, New York, Delaware, Maryland, and West Virginia"